Getting a Grip on Dog Behavior Modification

Dog behavior modification is a hot topic.  Some people think that dogs should be allowed to be dogs, others think you need to break the dog's spirit to keep them under control, and still others are on the fence about the whole thing.

With an untrained, mischievous dog under foot, correcting the bad behavior will make life at home with your furry friend much more enjoyable!  Dog ownership accounts for some of the most rewarding and also frustrating experiences in life.
It really does take serious commitment to have a dog, an understanding of dog behavior, and time to invest in turning him into the "perfect" pooch you've always wanted.  All those dogs in the movies and TV shows you see?  That's right... a TON of work went into training and preparing that dog for its role.
Enough with the downers!  Look at the bright side - you can have a dog that listens well to you and isn't destructive in the home.  Like I said, all it takes is a little training and a lot of practice.
Correcting dog behavior is sometimes as simple as understanding that something you are doing is causing the reaction in your dog.  For example, if you pet the dog when he has his paws anywhere on your legs (greeting you at the door), you are inadvertently praising him for jumping!


What is Dog Behavior Modification?
Put simply, behavior modification is changing a dog's response or the way he or she reacts to certain things.
This might include:
desensitization - exposing a dog to a stimulus that would normally cause him to react negatively at such a low level that the dog doesn't give a response, and then slowly increasing the stimulus as the dog becomes less reactive to it.

This is typically used to deal with a fear. Desensitization will make a dog feel neutral to a stimulus. It can then be paired with counter-conditioning...


counter-conditioning - This refers to how we change how a dog feels about a particular stimulus. If he was previously fearful of something, counter-conditioning will replace the fear or other undesirable response with a positive response.

This is done by associating the problem stimulus with something good (i.e. treats) while the dog is in a calm state of mind, and slowly increase that stimulus over time.


habituation - similar to desensitization, except that the stimulus is introduced in real-life scenarios and at normal levels of intensity or sound.

For example, if you were to ring the doorbell over and over again for several weeks, not trying to "train" the dog to do anything but simply to get him accustomed to hearing that sound with the goal of stopping his barking, this would be habituation.

What About Aggression?

When it comes to aggressive dog behavior, you should seek out the help of a professional trainer to understand the nature of the aggression and correct dangerous behavior like this. 
While under-socialization as a young puppy is the most common reason for dog aggression, other reasons include:
rough housing or play-fighting as a puppy

history of abuse or trauma

dog has been bitten or traumatized by another dog


Dog Behavior Modification for Nuisance Problems

Dog behavior modification doesn't just help with dog aggression issues, though.  It can help with "little" problems such as:
your dog chewing things like shoes, Kleenex, furniture and even baseboards or chair legs


your dog digging in the backyard


nipping or mouthing (putting his mouth on your arm/hand - not biting) your hands, feet and/or clothing


jumping up on you, your children and guests - first read about why dogs jump and first steps you can take to prevent it.  Once you've read that page, move along to the nitty-gritty details of how you can stop dog jumping.


dog marking in the house


house training a puppy or an older dog


stealing objects or not letting go of objects


running away


Sometimes, dog behavior doesn't necessarily need to be changed as much as it needs to be managed. I'm referring to dog behavior changes with age, such as those you can expect to see in a senior dog.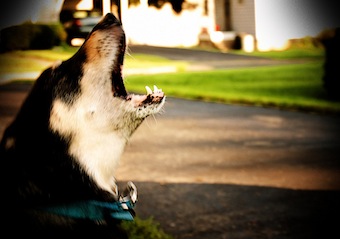 Dog behavior modification can solve most nuisance problems.
Photo courtesy of Brad K. via Flikr.
This list is by no means exhaustive, so chances are, if your dog behavior question isn't covered here, it might be in the Dog Behavior Frequently Asked Questions at the end of this page.
Read questions and answers that other visitors have shared about dog behavior problems.
We're a growing community on Facebook, too!  Click the Like button below to follow along, then pop over to say hi.

I'm always adding to this site, so if it's your kind of place, why not bookmark us and visit us again? We'd love to see you!
Links to new and updated pages are always included on our Blog Page.

What Other Visitors Have Said
Read below to see questions and contributions from other visitors to this page...

---