About Precision K9

Nice to meet you! My name is Shannon, and I'm the face behind Model Hound. 
Milo is our cute, bouncy, mischievous black and white Cockapoo. He is a two-year-old ball of energy, and you'll see his face around here sometimes, too!
I often get asked how in the world I became a certified dog trainer.  Well, here's the story...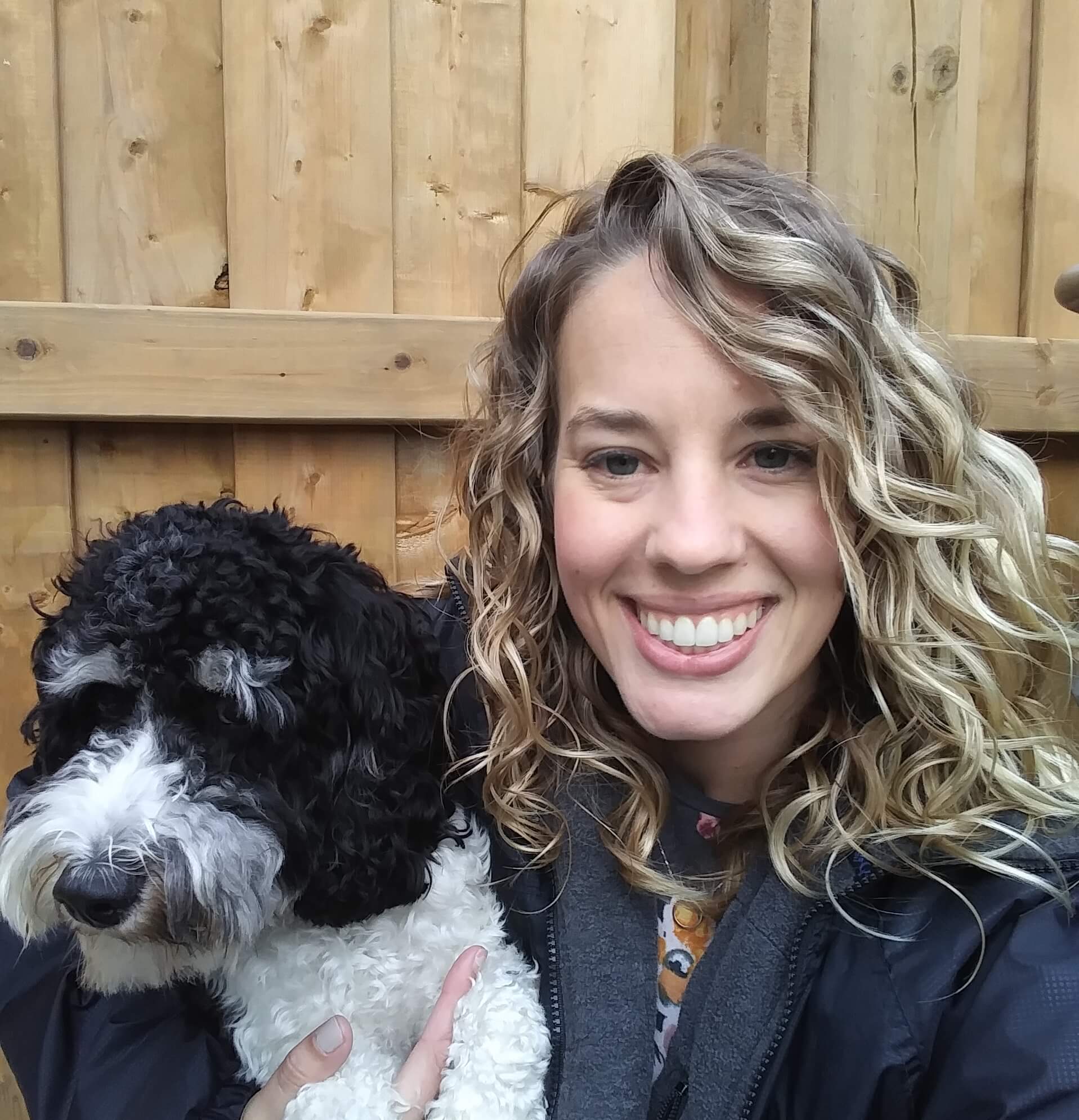 Shannon and Milo
I was happily lolly-gagging through life when the time came to make that all important decision about post-secondary school. 
By this time, I had worked a wide variety of part-time jobs, from grocery store cashier to mowing lawns to picking cucumbers.
Oh, how I hated being stuck in a sauna-like greenhouse all summer with those scratchy cucumber plants leaving the skin on my arms in tatters.
The one job that I thoroughly enjoyed, however, was at a dog kennel. I loved being around the dogs all day, feeding, walking, bathing, picking up poop.
OK, I didn't enjoy that last one, but it came with the territory.  I grew up with my own dogs, so I felt right at home.
It was a no-brainer for me to pursue being a certified dog trainer after high school.  A month after graduation I moved to Niagara Falls and began a one year apprenticeship under dog training guru Dave McMahon, of McMahon's Dog Training Academy.

Besides obedience training, I learned personal protection training, tracking, and - my favorite - narcotic detection.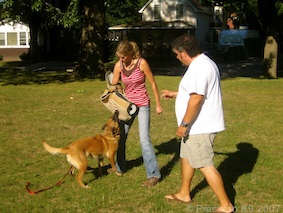 Personal protection training with Heidi, a Belgian Malinois.
Let me tell you, it was a grueling year.  Training was mostly in the evenings, so I jumped at the chance to be able to pay for my apprenticeship during the day. 
From sun-up to late afternoon I worked at Tim Horton's (I mean, who in Canada hasn't spent at least a little time working there?!) then I'd race home to change and pick up my dog, Justice, and head out to the training academy until 9:30 p.m. 
Go home, sleep.  And repeat.
But I was in my glory!  I loved every minute that I spent learning and training.

After that whirlwind year training under Dave, I married the man of my dreams and moved to Brantford, Ontario.  You'll never guess what happened next (no, not a baby :) ...
Something I never thought possible.
Ever.  Seriously, it didn't enter my wildest dreams.
A New Business

Precision K9 Professional Training opened its doors in 2008, starting small but quickly exploding into three full evenings of dog training for me!  I loved my job, and seeing how I could help owners transform their unmanageable dogs into pictures of obedience just fueled my desire to help more.
Click to see some testimonials of what past clients have to say about our training...
While I'm at it, I had better introduce you to my dog at the time, as well, who is mentioned often on here. Her name was Justice.
This gorgeous girl was rescued off the street as a puppy where she was found with her litter mates.
Training her was a small challenge, but she spent 13 lovely years with us as a happy, obedient and well-adjusted family pet.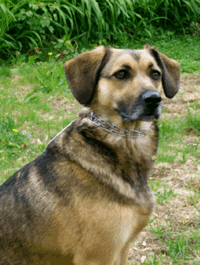 There was no real pedigree to her, either... as far as we could tell, she was part German Shepherd and part hound!
For me, though, family is more important than any career I could have.  And it was starting to put a serious dent into time spent with my husband.  Something had to change. 
I didn't want to be a wife or mom that was always gone in the evenings and on weekends for work.  I wanted to be able to stay home with our kids one day, without having to worry about money all the time.  I wanted the freedom to have choices for our life!

The Solution...
Not wanting to give up my love for dog training, I stumbled upon SBI - which stands for Site Build It! and helps anyone turn a hobby or skill into a viable online business.  I have to admit, I was a little unsure... me?  Build a website??

I mean, yes, I know how to get around online, but this seemed so... hard.  Well, this website is a testament to the fact that anyone can do it!  I can attest to the fact that you don't need any programming or web design skills, and you don't even need a business or have a product to sell.   
SBI has all the tools you need, and even better, they guide and teach you step by step, the whole way!  You don't even need to know what you want to have a site about... they help you choose the best topic, build your own site, get it ranking at the search engines, and (here's the big one!) even make money at it.
My site, Model Hound, isn't nearly as good as it gets... I'm still working on it!  But if you want to see some other sites that are built by other "normal" people like us, and in the top 1% of web success - here it is, tons of SBI success stories.

So I moved my passion as a certified dog trainer to the online world.  And I haven't looked back since... I love being able to help owners and their dogs all across the world now!  I get to choose how much time I spend on my job, and I still get to use my dog training knowledge in a way that is immensely rewarding! 
And of course, my dog, Milo, benefits as well - no more leaving him at home alone all day while I go to work :)

No matter what sort of skills you have, or what hobbies or interests you have, any topic can make money via a website.  If you're looking for a get-rich-quick scheme, this is not for you.  Yes, this is a lot of work at the beginning - like anything good, you'll have to work for it, but...
"If you do what you love, you'll never work a day in your life."
The best part is that it's totally risk-free.  SBI sticks to a 100% money-back refund if you don't like it.  For me, this was really important before I decided to try it, and I'm so glad I did!

I rarely hear people talking about how much they love what they do... and it's sad!  We're all the same, we all want to escape the rat race, leave the commute behind, stay at home with the kids, travel more... close your eyes and think about what you really want to do.
Open your eyes.  What are you waiting for?  Anyone can do what I've done...

Try SBI!  If I can do this, so can you :)

Where To Next?
Precision K9 might not be a local dog training school anymore, but I have the ability to go world-wide now.  This is really exciting for me!
First and foremost, I am passionate about showing other dog owners how to have a balanced dog.  This means that this site is for you.  As Margaret Fuller said, "If you have knowledge, let others light their candles at it".