Basic Dog Obedience Curriculum

Don't live with bad behavior and an uncontrollable dog for another minute. You don't have to waste any more time or money on methods that don't work, because this is the only complete, hands-on guide to basic training that you'll ever need.
But not just any old method and not just a handful of random tips and tricks haphazardly thrown together. You need a real solution, a game plan that is simple to follow and where the results speak for themselves.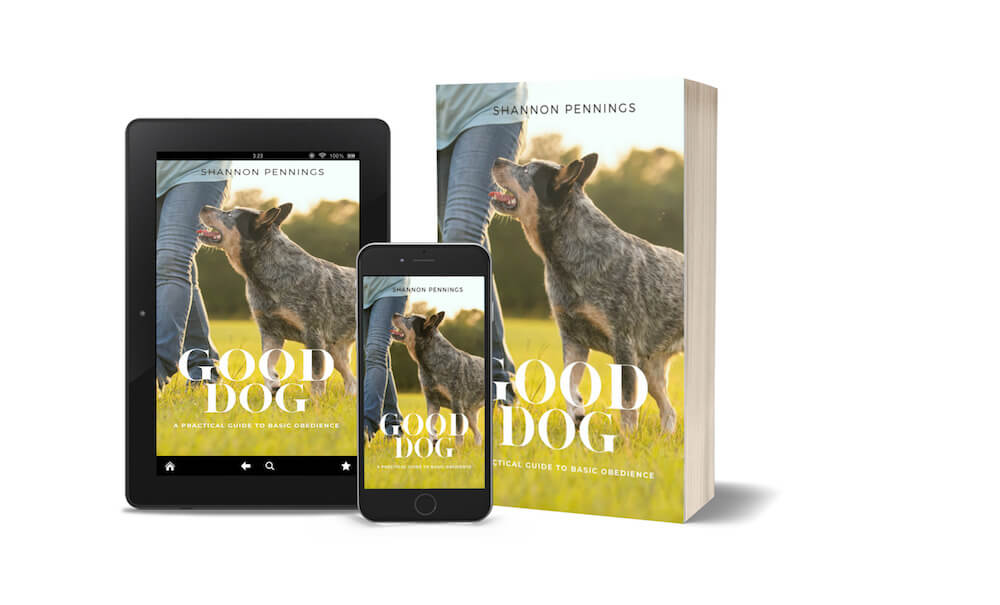 Balanced training (what this site is all about!) is the key to my simple, common-sense approach. You want your dog to listen to you, every time, right away. Doesn't seem like you're asking too much to me!
Dogs are dogs, not humans trapped in fur. So balanced training, with reward and correction, is far more primal and instinctual to a dog than time-outs and bribes.
I'm a certified balanced trainer with 15 years of experience working with dogs of all ages, sizes and temperaments. Even the most "untrainable" dogs can become wonderful family members, and I've done that for clients again and again over the years.
An At-Home Training Solution
Not everyone can make in-person training courses work for their life. Too expensive, too far away, shift work, no trainers around, whatever the reason may be...
The solution? A balanced training basic obedience program for dogs and puppies of all ages and breeds in an easy to read and follow e-book.
This course is for you if you have a puppy that needs to start at the very beginning, or if your adult dog hasn't had any formal obedience training. Or maybe his training just needs a tune up?

While there are quite a few articles on this site about basic training and solving problem behaviors, this guide pulls it all together in an organized format, with lots of extra readers-only content. Lessons are in order of how they should be taught, and homework is even assigned after each lesson.
This is the best puppy training book you'll find for practical obedience training!
What's Inside?
But don't just take my word for it. I want you to be able to see exactly what you'll be getting in this basic dog obedience curriculum. In a 130-page PDF format e-book, you'll find these chapters:
Training Methods
Training Toolbox

Using the Right Collar

House and Crate Training

Basic Obedience Training

Solving Common Behavioral Challenges

How to teach your dog to fetch!
I won't just tell you to get a training collar. I'll show you the options available, and give you my best recommendation and how to make the best choice for YOUR dog.
You'll learn which tools you can get by with to start training right away and which ones will come in handy as you progress further in training.
You'll find out how to crate train your puppy (or adult dog), and more importantly, why you need to get on this right away. Hint: It has to do with preventing bad behavior!

There's an in-depth guide to house training. Every single foundational obedience command that will bring calm to your home and give you confidence to control your dog, and helpful photos like the one below to show you exactly how to teach them. Specific solutions for the most common behavioral problems.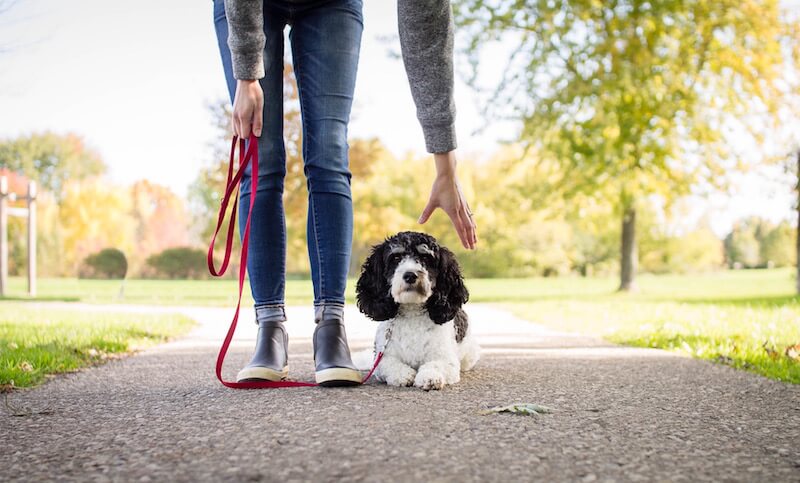 My pup, Milo, and I working on some basic obedience training. Photos like this will show you the steps to teaching commands!
Core Commands You'll Learn

Just like in-person basic training classes, this e-book covers everything necessary to giving your dog a solid foundation of core skills. Each lesson acts as a building block for the next skill as you work through the plan, starting at the very beginning:
✓ Sit at your side and a release command
✓ Heeling on a loose leash at your side
✓ A solid sit-stay
✓ Down at your side
✓ Down-stay
✓ A reliable recall
You'll also learn how to train your dog to drop whatever is in his mouth. In the dog training world, it's called an "Out" command, and it's one that I use every day.
Problems You'll Solve
Aside from basic commands to guide our dogs' behavior, they need to learn to live in a human household. This means your job is to stop any unwanted behaviors or learn to prevent them from happening in the first place.
What are the biggest offenses that you'll learn to deal with in Good Dog:  A Practical Guide to Basic Obedience? Inappropriate chewing, jumping up on yourself and other people, nuisance barking, digging, and house training woes.
How Does the Cost Compare?

Consider this. A 10 week basic obedience in-person group course costs upwards of $400. The cost of private training for the same level is often easily over $1000. I know. I'm a dog trainer.
So yes, this e-book is a steal!
Another advantage to buying this basic training guide?
Start training right away with instant access to your download, regardless what day or time you buy it. 

Extra Bonuses Just For You
Of course, we all love extras. And there's a few bonuses only available to you with the purchase of Good Dog: A Practical Guide to Basic Obedience:
Each of these resources was created by me to help you on your journey to train your dog at home with as little confusion and stress as possible and are only available with the purchase of my e-book.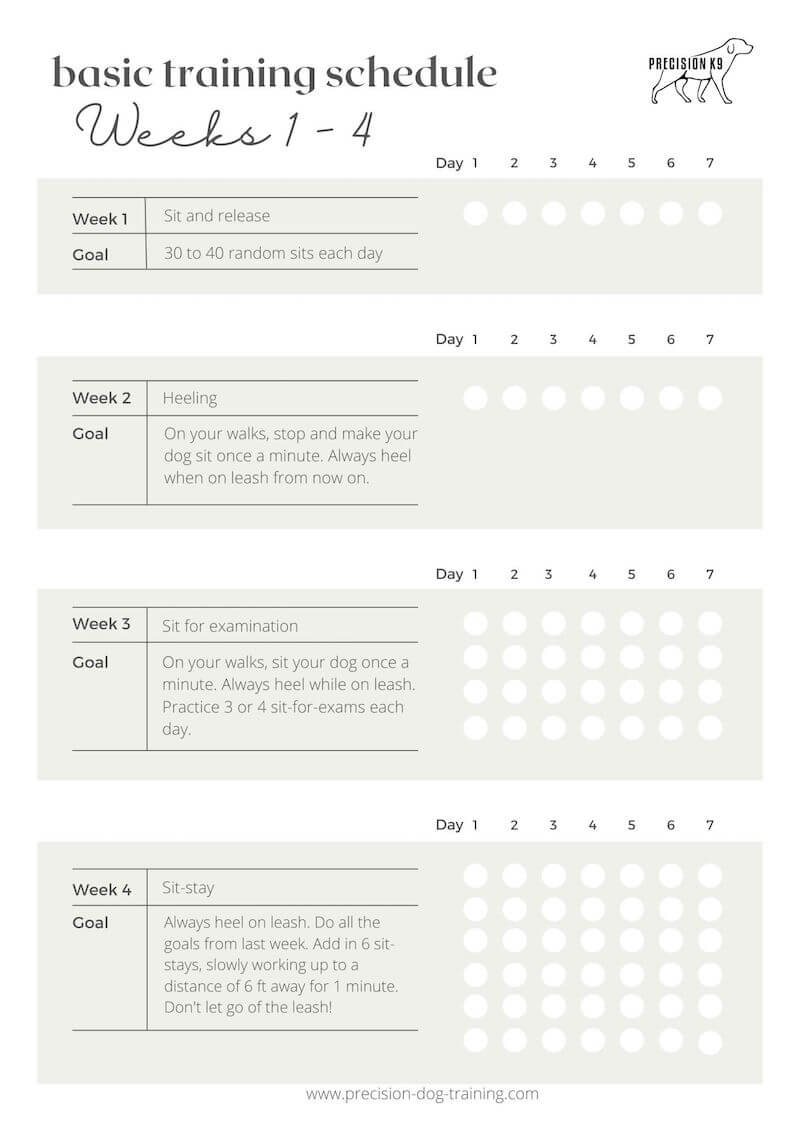 You have absolutely nothing to lose by buying this guide. I hate buying something without knowing that I'll be able to get my money back, so I want to make it totally risk-free for you!
If after reading and working through the lessons and behavior solutions, you still don't feel that it was helpful in shaping your dog into a better behaved member of the family... no hard feelings. Read it, implement it, use it for a full 30 days without risk.
What are you waiting for? Your dog won't magically wake up tomorrow better behaved... it's up to you to change the story.

Buy your PDF copy of Good Dog: A Practical Guide to Basic Obedience right now. All you need to do is...
Click the button below to purchase for only $19.97. You can pay with Paypal, credit card,  or debit.

Check your email for your new e-book and bonus material download links.

Click the download link in your email.


Get reading!