50+ Clever Names for Black Dogs

If you're here, you have a black puppy that you need to name! Coming up with clever black dog names by sifting through list after list of puppy names is time-consuming at best, and frustrating at worst.
No worries! I've curated a list of clever and cute names for you here that perfectly capture the character of a black-coated dog.
Only the best names made the cut, and you can be sure that your pup will have the most unique name on the block.
Some specifically relate to the beautiful color of his fur, a few are based on movie characters, while others give a nod to the kitchen with some fantastic food and drink names.
Want a name that's a bit less mainstream than those? There's even a list of names that lean into the idea of the "darkness" of the color black by borrowing names from popular movie villains!
Choosing a name is one of the most exciting decisions you'll get to make for your new puppy, and naming him by playing off of the color of his coat is a fun way to make this all-important decision.
Overall, I tried to group them according to what each name is inspired by, but not every pup name fits a category nicely.

Miscellaneous
Black Jack


Velvet


Beast


Mystery


Knight


Cloak


Nocturne


Satin
Slater


Silhouette


Flint


Gunner


Anchor


Smudge


Magic


Boots
Nature-Inspired Black Dog Names

Nature names are huge right now for babies, and pup names are no different. If you love nature or tend to like names for dogs that are nature-related, then this list is for you.
There are so many awesome names here!
Storm, Stormy


Tempest


Sleet


Abyss


Nova


Galaxy


Ember


Carbon
Raven


Horizon


Shadow


Midnight


Twilight


Midnight


Ore

Ash


Slate


Smoke


Smokey


Coal, Kohl


Iron


Onyx
Eclipse


Stone


Rocky


River


Quarry


Night


Soot

Color-Inspired Dog Names

Indigo, Indy


Ink


Jet, Jett - like jet black, not an airplane ;)


Noir - This is the French word for "black". Beautiful, uncommon, classy.


Charcoal
Ebony - an absolutely GORGEOUS name!


Shade


Lead


Tar


Graphite
Black Dog Names Based on Movie Villains

Who doesn't enjoy a good movie? And am I the only one that often thinks character names would make amazing dog names, too? The twist here is that we're going to go with a more bad boy (or girl) leaning, and focus on those memorable movie villains with great names.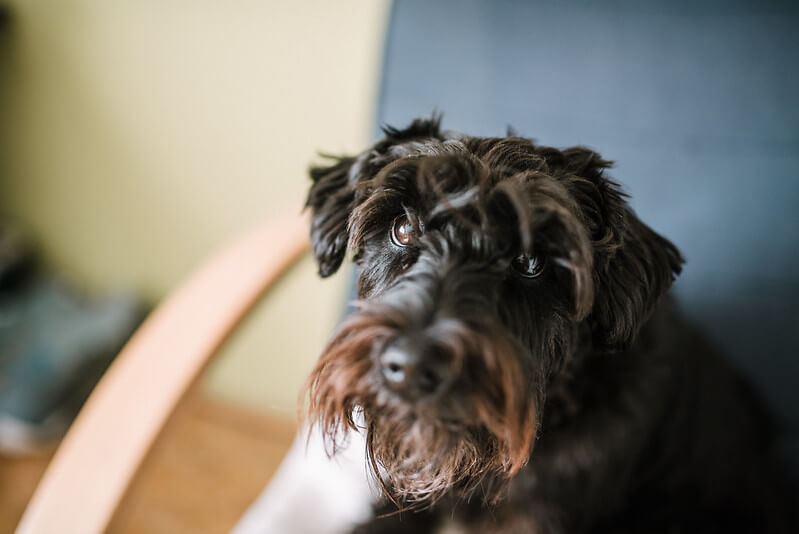 Flickr/Nenad Stojkovic
Cruella (101 Dalmations)



Jack or Sparrow, or Jack Sparrow! (

Pirates of the Caribbean)


Mystique (X-Men)



Vader (

Star Wars)



Nebula (

Guardians of the Galaxy)



Ursula (

The Little Mermaid)



Scar

(The Lion King)



Maleficent

(Sleeping Beauty) -

Fantastic name for your beautiful, black girl dog. A bit on the longer side, but you can easily shorten it to "Mal" or "Effie".





Gaston

(Beauty and the Beast)


Amos - for Amos Slade on The Fox and the Hound. Even though he's a meany on the movie (at first anyway), I love the name Amos for a puppy!


Terminator - I'm thinking a large breed dog will suit this name best. Though you could totally name a tiny Chihuahua this for a completely different spin on it :)


Atticus - To Kill a Mockingbird


Clyde / Bonnie - or maybe Bonnie and Clyde if you have black dogs!
And I had to include some black dog name inspiration from non-villainous movie characters, as well:
Fury (The Avengers) -

Nick Fury is the founder of the Avengers and a world-renowned spy. What a unique and great-sounding name!




Batman - No explanation needed, I believe.


Pepper - Referring to Pepper Potts, the Iron Man's personal-assistant-turned-superhero from Marvel's Avengers

. What a great name for your black girl puppy!
Culinary-Inspired Black Dog Names
Food lovers and dog lovers unite! I've got some delicious names here, borrowed from the kitchen, to suit a black dog perfectly.
Flickr/Pedro Ribeiro Simoes
Pepsi - For those of you who prefer Pepsi over Cola :)





Coffee

- Coffee is life. The end.


Oreo - Probably one of the more common names on this list, I still had to include it because it's common for a reason! Great for a black and white dog, especially.


Kona - This is a Hawaiian coffee bean variety.


Chia - In reference to chia seeds, which are black.


Blackberry


Licorice


Dropje - Being Dutch, I couldn't leave this one out! A dropje (pronounced drup-yuh

) is a small, very salty black licorice candy that Dutch folks such as myself are rarely without. Those of us 2nd generation Dutchies here in Canada pronounce it more like

drup-ee

. I guarantee there will be no other dog at the park with this name.




Mulberry


Espresso - Stronger than coffee, but in a smaller cup! Maybe good for a small black dog name?


Merlot - A dark blue-colored wine grape variety. Merlot is actually a French word which translates to Little Blackbird. If I had a black puppy, this would be one of my top picks for sure! It's unique, yet not too out-there.


Malbec - This is a purple grape variety, often having a dark, inky color, used in making red wine.
Well, that's a wrap. It was so hard to pick and choose the top black dog names! Hopefully there's plenty of inspiration here for naming your black puppy.
Want some more great dog name ideas? Check out these French female dog names, male dog names and a catch-all female dog name list. I'm working hard to add more great lists of dog names for you all the time!
And if you're wanting to really prepare for bringing a puppy home, click here for puppy behavior, or click here for how to house train a puppy. You got this!
Share Your Favorite Name

Do you have a great black dog name not on here? Which is your favorite?